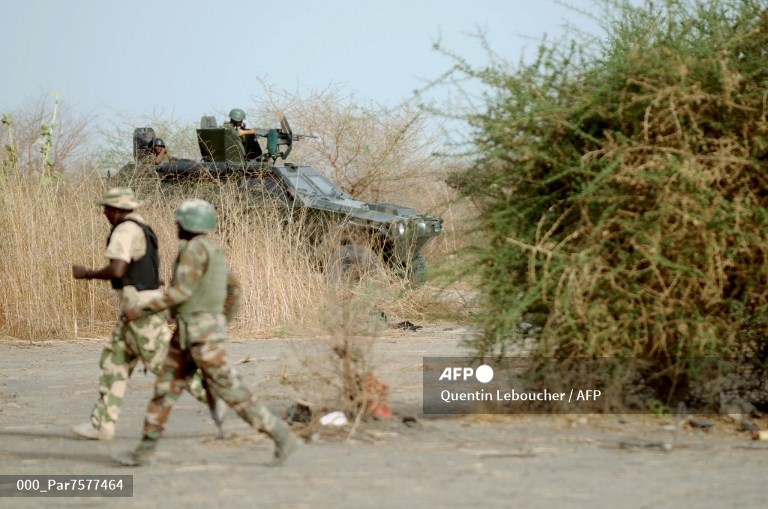 PHOTO CREDIT: AFP
THE GUARDIAN
24 June, 2013
ENLIGHTENMENT and determination are yielding positive fruits in the fight against terrorism as members of Volunteer Vigilance Youths Group (VVYG) and men of the Joint Task Force (JTF) in Borno State arrested 31 Boko Haram terrorists at various locations in
Maiduguri at the weekend.
Their effort drew ovation and commendation from residents and
soldiers, as they went after the fleeing
suspects after the destruction of their
training camps at Sambisa Game
Reserve Forests (SGRF) and Kirenoa, a border community with Chad.
According to the VVYG Chairman, Abubakar Mallum, and his vice, Isa Musa,
the suspects were nabbed at NEPA Market junction, Anguwar Doki, Shuwari
II and Gamboru Market areas of
Maiduguri. He added that the terrorists have already been handed over to the
various JTF local sector commanders for
further investigation.
The fleeing terrorists had attacked
Ansarudeen Secondary School, as well as
fishermen and traders at Alau Dam,killing 22 people, including nine students writing the National Examinations Council (NECO) on Baga Road.
Speaking on their modus operandi
yesterday in Maiduguri, Mallum said
youth vigilance group "operates at
strategic locations with ordinary sticks
and cutlasses, without any rifle like the
soldiers that patrol the major streets and roads of Maiduguri." According to him, "all vehicles are stopped at these strategic locations and we search their interiors, booths and hoods, where some of the rifles are hidden to launch attacks in this city."
In a breakdown of the arrests made at
the weekend, Mallum disclosed that on
Friday, four suspects were arrested in
Shuwari ward, while the following day,
five were arrested and handed over to
the nearest local sector commander of JTF. Last Wednesday, he said, 15 suspected armed Boko Haram members were also arrested at Gambouru Market, while the residents were cooperating to end the incessant attacks and killings in the state.
Meanwhile, the JTF Sunday also commended the youths for the joint
manhunt of fleeing Boko Haram suspects. According to its spokesman,
Lt. Col. Sagir Musa, "the JTF commended
these youths for assisting our soldiers and police arrest these terrorist
suspects among people living in the
metropolis. "The youths have also renewed their efforts in supporting the JTF in the current operations."