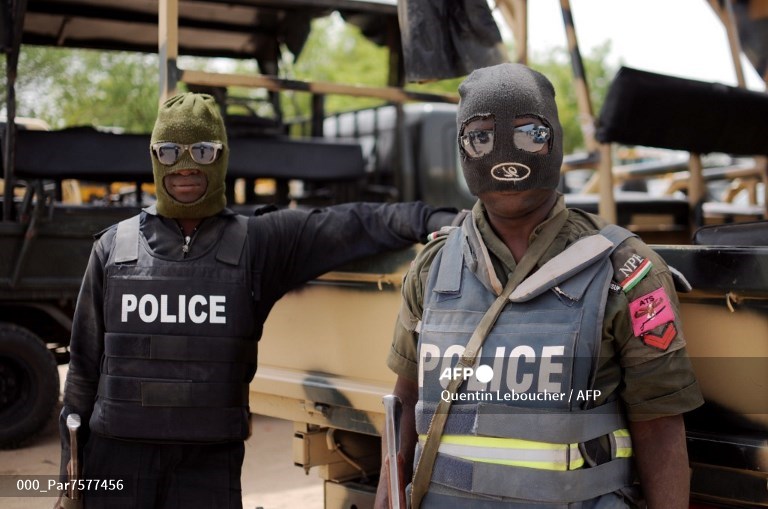 Men of the Police Counter Terrorist Unit on CTCOIN operations in Borno, N.E Nigeria.
(PHOTO CREDIT: AFP)
THISDAY
1 August, 2013
(..)Meanwhile, the Borno State Government Wednesday made a request for the deployment of more troops to the state to see off the threat of the Boko Haram sect.
Speaking while receiving the Assistant Inspector General of Police (AIG), Zone 12, Mr. Edgar Tam Nanakumo, in his office yesterday, the Borno State Deputy Governor, Alhaji Zanna Umar Mustapha, said Bama and two other local government areas were still infested with members of the sect. He told the AIG that more policemen should be deployed in the state to flush out the remnants of the sect in the three local government areas where they still terrorise people. He particularly appealed to the police to deploy more troops in some volatile local government areas like Bama and Kaga where the insurgents were still operating.
He assured the AIG that the government would collaborate with the police to ensure that peace returns to the state. He also said lack of perimetre fencing had made many police stations and formations in Borno susceptible to Boko Haram attacks, noting that the police could have recorded fewer casualties during attacks on them if they had fenced facilities.
Earlier, the AIG had said he was in the state to familiarise with the area, government, people and personnel of the Nigeria Police Force. He said he was also using the visit to condole the government and families of the policemen who were killed in Bama and other attacks by the Boko Haram.